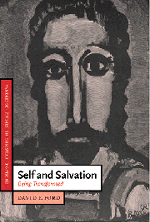 I've completed quite of bit of travelling over the last few days - London, Bicester and Bath. During these travels I've picked up some new books, which I'm reading or have now read - Cadences of Home: Preaching to Exiles (Brueggemann), Self and Salvation (Ford) and Cross-Shattered Christ: Mediations on the Last Seven Words (Hauerwas).
Self and Salvation: Being Transformed is a fascinating book, published back in 1999, it was then the first book in the Cambridge Studies in Christian Doctrine (ed. by Dan Hardy and Colin Gunton). Synopsis:
This eagerly awaited book by David F. Ford makes a unique and important contribution to the debate about the Christian doctrine of salvation. Using the pivotal image of the face, Professor Ford offers a constructive and contemporary account of the self being transformed. He engages with three modern thinkers (Levinas, Jüngel and Ricoeur) in order to rethink and reimagine the meaning of self. Developing the concept of a worshipping self, he explores the dimensions of salvation through the lenses of scripture, worship practices, the life, death and resurrection of Christ, and the lives of contemporary saints. He uses different genres and traditions to show how the self flourishes through engagement with God, other people, and the responsibilities and joys of ordinary living. The result is a habitable theology of salvation immersed in Christian faith, thought and practice while also being deeply involved with modern life in a pluralist world.
Download free chapter here.
Much of the book is unfriendly to the non-academic reader and I found the chapters which engaged with Levinas, Jüngel and Ricoeur hard to get through. Despite this, the chapters on worship, the eucharist and 'facing Jesus Christ,' were great and a brilliant source for doing alt.worship. I'm planning to try some of it out at the service-type-thing I'm doing on Good Friday called 'windows on the cross.' Ford argues that when we encounter the face of Christ we are transformed (2 Cor 3:18 obviously being important).